Check Detailed SSC MTS Syllabus 2022 and SSC MTS Book List for Exam Preparation, Visit ssc.nic.in MTS Exam Date, Check SSC MTS Book Free, Download SSC MTS Previous Papers
In this Article we will Provide you the Latest and Detailed section wise Syllabus for SSC MTS Exam 2022. List of Best SSC MTS Examination 2022 Preparation Books, Check also Eligibility and Exam Pattern. Visit ssc.nic.in MTS 2022 Exam Date Notification
SSC MTS Syllabus 2022 Tier-1 and Tier-2 | ssc.nic.in MTS Exam
The SSC MTS syllabus consist of two levels – Tier 1 and Tier 2 Examination. While SSC MTS Tier 1 Exam consists of objective type questions on Reasoning Ability, Numerical Aptitude, English Language and General Awareness, Tier 2 Exam is a descriptive paper. All The candidates have to clear the each stage of the examination to get appointed to the post.
This article will gives you Details about the latest SSC MTS Syllabus 2022 for Tier 1 and Tier 2 to help you start your preparation. However, you can also download SSC MTS Syllabus PDF in English and Hindi through the link shared in this post.
SSC MTS syllabus consists of subject wise syllabus. SSC MTS Exam Syllabus 2022 consists of 2 levels:
SSC MTS Tier 1 Examination : Objective Type Questions
SSC MTS Tier 2 Examination : Descriptive Paper
Go through the complete subject-wise syllabus along with latest SSC MTS exam pattern. To help you understand the structure of SSC MTS Syllabus for Tier 1 and Tier 2, we have prepared a table below: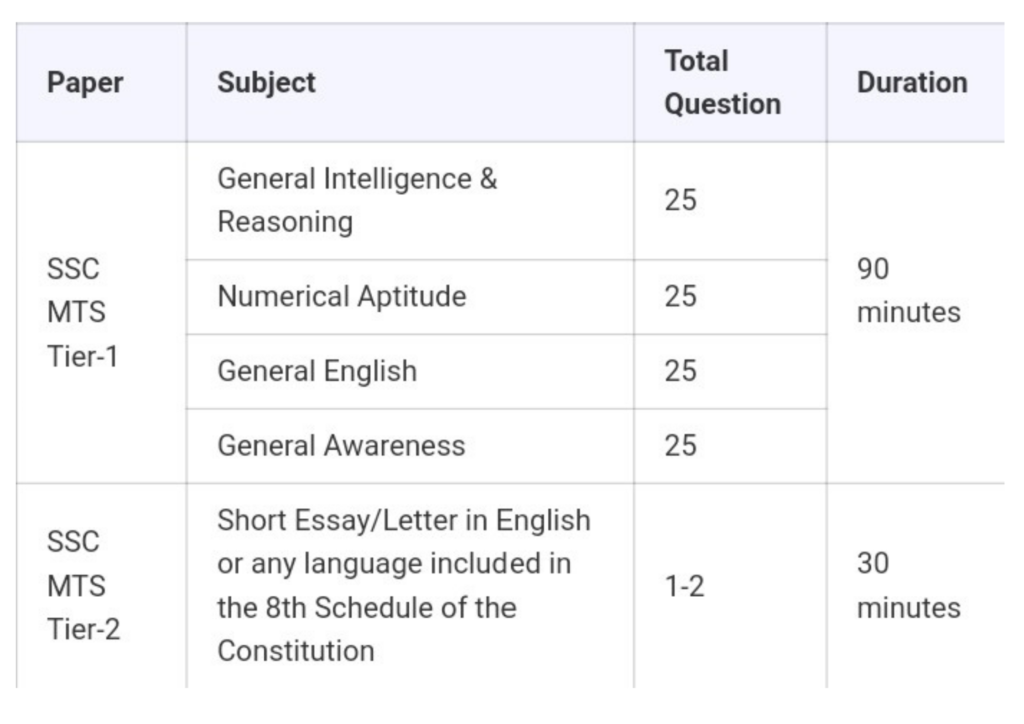 SSC MTS Tier-1 Examination Syllabus
To start your preparation for the upcoming exam, you must be aware of the subject wise SSC MTS Syllabus for Tier 1 Exam which consists of 4 sections- English Language, Reasoning section, General Awareness and Quantitative Aptitude section. The detailed SSC MTS Tier 1 syllabus is discussed in the below sections.
SSC MTS Reasoning Syllabus
Analogy
Classification
Judgement
Decision Making
Matrix
Similarities & Differences
Visual Memory
Relationship Concepts
Missing Number
Blood Relation
Coding Decoding
Word Formation
Arrangement of Words
Simplification
Number Series
Distance and Direction
Non Verbal ( Paper Cutting, Paper Folding, Mirror and Water Image, Counting Figure)
Embedded Figures
Statement and Conclusion, Syllogism
SSC MTS Mathematics Syllabus
Percentage
Ratio and Proportion
Simple Interest & Compound Interest
HCF and LCM
Profit, Loss and Discount
Average
Time, Distance & speed
Time and work
Number System
Problem on ages
Mensuration
Number Series
Data Interpretation
Trigonometry
Decimals and Fractions
Geometry
Mixture and Alligation
Computation of Whole Numbers
Arithmetical Operations
SSC MTS General Awareness Syllabus
Indian History ( Important Dates, Battle and wars, Indus valley, Buddhism, Jainism, Mughal Empire, Buddhist Council, Indian Independence)
Geography ( Flowing Direction of Major Rivers, Crops Season, Dams and Falls, Important Plateaus, Types of Soil and Its Crops)
Polity ( Articles of Constitution, Articles for PM, President & Speaker, Parts of Constitution, Languages in Constitution )
Economics ( GDP Growth, CRR, SLR, RBI Updates, Government Budget)
General Science ( Physics, Chemistry, Biology )
Computer ( Use of Elements in MS word, Like Button used for Print, Copy etc )
Current Affairs ( Last Six Months Before Examination )
Important Dates, Awards, Government Schemes, Books and Authors.
SSC MTS English Syllabus
Error Spotting
Reading Comprehension
Synonyms and Antonyms
Idioms and Phrases
Fill in the Blanks
Sentence Correction
Spelling Error
One Word Substitution
SSC MTS Tier-2 Examination Syllabus
SSC MTS Tier 2 is a descriptive exam which will be conducted in pen and paper mode. Therefore, SSC MTS syllabus for Tier 2 will consist of writing an essay or letter and only those candidates will be asked to appear for Tier 2 exam who will obtain cut-off marks or above in SSC MTS Tier 1. SSC MTS Tier 2 Syllabus There is no negative marking for wrong attempts. Given below is the SSC MTS Tier 2 syllabus along with the maximum marks and duration to complete the exam.
| Subject | Max Marks | Total Time |
| --- | --- | --- |
| Short Essay/Letter in English or any language included in the 8th schedule of the Indian Constitution | 50 | 30 Minutes |
SSC MTS Book List 2022 For Exam Preparation
The Important Part of the Exam preparation is to find the Best Books list Online. There are Many SSC MTS Books for preparation but we will Select the Best and Exam Cracking Study Material Books for you. You can also Download these Books for free from Study Pariksha. Our Aim is to Help the Students who are Preparing for SSC MTS 2022 Examination.
SSC MTS Reasoning Book for Preparation
The Reasoning Part of the Examination Needs More time on Practicing Questions Daily. If you Properly give Enough time to practice reasoning, Definitely you will Score Good Marks in the Examination. This Reasoning Book is the Best if you want to Practice Exam Oriented Questions and it also Gives Perfect Examples to clear all your Problems.
SSC MTS Book for English Preparation
The English Section needs More Attention on Improving Grammar Skills, Most of the Students Made Several Mistakes in the Error and Spotting Part of the Subject. If you are looking for a Book who completes your Syllabus and Also give you a complete idea about the Examination then go for this Book. Remember One thing English Needs More Practice to Cover the Syllabus, so Practice Daily Previous year Questions.
SSC MTS Exam General Awareness Current Events Book
Start Preparing For the General Awareness Section with the Best Book which Covers all the Important Things form the MTS Examination. This Kiran Publication Book has all the Previous Year Papers which Helps you to Cover the General Awareness Section. Most of the Questions asked Multiple Times by the SSC in MTS Examination. GK Section is Generally tough for students, but this Book Definitely helps you to Gain Good Marks in this Section.
SSC MTS Book for Maths Preparation
These are the Two Best Books which you will need to Prepare the Quantatitive Aptitude Section of the MTS Examination 2022. The Quantatitive Aptitude Book by RS Aggarwal Helps you to Complete the Basic Concepts of the Chapters while the Kiran Publication SSC Mathematics Previous year Papers Book helps you to Understand the Types of Questions asked in the MTS Examination.
In this Article We Covered the SSC MTS Book List for 2022 Examination, Complete Detailed Syllabus for the Exam. We also Provide Free Books which you can Download and Start Your SSC MTS Exam Preparation. For Important Government Schemes and Latest Static GK Topics Stay Connected with Study Pariksha for more Information.
Frequently Asked Questions
What is the Exam Date for SSC MTS 2022 Exam ?
The Exam date for SSC Tier-1 Examination is From 05 to 22-07-2022
Which Book is Best for MTS Tier-2 Descriptive Paper ?
You can Prepare your Tier-2 Examination with SSC Kiran Descriptive Paper Essay Writing Book
What is the Application Fees for SSC MTS Exam?
The Application Fees is Rs 100/- For Women/SC/ST Pwd and ESM There is No Fees
What is the Best Current Affairs Book for Preparation?
For Current Affairs you have to Read newspaper daily or you can Visit Study Pariksha for Important General Awareness Topics