PM Gram Sadak Yojana UPSC Notes for Exam, Pradhan mantri gram sadak Yojana Objective and Aims. PMGSY Scheme Plans | PM Gram Sadak Yojana Tenders
What is PM Gram Sadak Yojana ?
Pradhan Mantri Gram Sadak yojana is a Nationwide Scheme in India to Provide Good Lal weather Road Connectivity to Unconnected villages and Rural areas. This Scheme was launched on 25 December 2000 by the then Prime Minister of India Late Shri Atal Bihari Vajpayee. PMGSY is Under the Authority of the Ministry of Rural Development and is fully funded by the Central Government.
Rural Road Connectivity is not only a component of Rural Development by promoting access to Economic and Social services and thereby generating increased agricultural incomes and productive Employment Opportunities in India but is is also a key in Ensuring sustainable Poverty Reduction.
Pradhan Mantri Gram Sadak Yojana Phase -I and Objectives
Phase -I was launched in December 2000, as a centrally Sponsored Scheme with an Objective to Provide Single all Weather road Connectivity to Eligible Unconnected habitation of designated population size for overall Socio Economic development of the areas. Under the Scheme, 1,35436 habitations were targeted for Providing road connectivity and 3.68 Lakh km for Upgradation of Existing Rural Roads in order to Ensure full farm to Market connectivity.
The Spirit and the Objective of the Pradhan Mantri Gram Sadak Yojana (PMGSY) is to Provide good all weather road connectivity to Unconnected habitations. a habitation which was Earlier Provided all weather connectivity would not be eligible even if the present condition of the road is bad.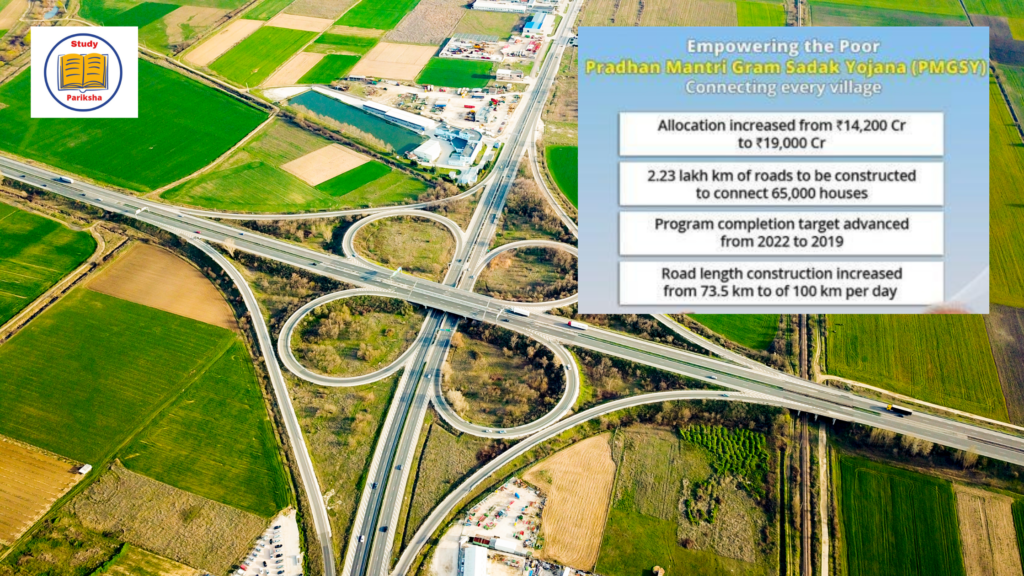 The Unit for this Programme is a Habitation and not a revenue village for a Panchayat. A habitation is a Cluster of Population, living room in an area the location of which does not change over time. Desam, Dhania, Tolas, Majras, Hamlets etc. are commonly used Terminology to describe the Habitations.
Eligibilty Under PMGSY Scheme Guidelines
Unconnected Habitations of Designated Population Size ( 500+ in Plain areas and 250+ in North Eastern States, Himalayan States, Deserts and Tribal Areas as per 2001 Census ) in the Core network for Uplifting the Socio Economic condition of the Rural Population.
An Unconnected habitation is one with a Population of Designated size located at a distance of at least 500 metres or more from an all weather road or a connected habitation.
Core Network is a Minimal Network of roads that is Essential to provide basic access to essential social and economic services to all eligible habitations in the selected areas through atleast single all weather road connectivity.
A core Network comprises of through routes and Link routes. Through routes are the ones which collect traffic from several link roads or a long chain of Habitations and lead it to Marketing centres either directly or through the Higher category roads.
Pradhan Mantri Gram Sadak Yojana Phase -II (PMGSY UPSC)
The Phase II was Approved During May 2013, Under this Phase the roads were already built for village Connectivity was to be Upgraded to enhance rural infrastructure. For the 12th five year plan period a target of 50,000 km length under Phase-II. 75 Percent of the cost of the Upgradation was by the Centre and 25 percent by the State Government. For Hill States, Desert areas , Schedule V areas and Naxal Affected districts, 90 Percent fo Cost was borne by the Centre Government.
The Cabinet Committee on economic affairs during November 2021 Approved the Continuation of Pradhan Mantri Gram Sadak Yojana Phase-I and Phase -II upto September 2022 for Completion of Balance Road and Bridge Works.
PM Gram Sadak Yojana Phase III Initiative and Progress
The Phase III was Approved by the cabinet during July 2019. It involves consolidation of through routes and Major Rural Links Connecting Habitation to Gramin Agricultural Markets , Higher Secondary Schools and Hospitals. Under the Third phase it is Proposed to Consolidate 1,25000 Km road length in the states. The Duration of the Scheme is 2019-20 to 2024-25
The Funds would be Shared in the Ratio of 60:40 Between the Centre and the state for all states Except for 8 North Eastern and 3 Himalayan States ( Jammu and Kashmir, Himachal Pradesh, Uttrakhand ) for which it is 90:10 Between the Centre and the States.
Some other Important Central Government Schemes
Pradhan Mantri Kisan Samman Nidhi Yojana Notes