Latest Updates
Important Government Schemes
Study Pariksha Exam current affairs and static GK
Daily Exam Current Affairs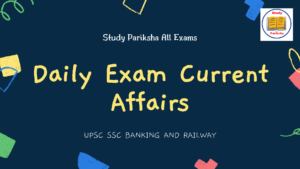 Prepare Daily Current affairs of UPSC, SSC Banking and Railway Examination. Prepare current affairs with detailed Static GK Explanation, Extra Informative points to Learn more about the Topic. we provide daily exam current affairs and also Topicwise to make your doubts clear.
Previous Year Papers
Prepare Yourself with all the Previous Year Question paper of all Examinations like UPSC SSC Banking and Railway and some other exams like university exams du , IGNOU and state Govt Exam papers to analyze and have a better understanding of the questions pattern in exams.
Static GK For Exams
Preparation of Static GK for SSC UPSC Banking and Railway Exams, Static Gk is the Very Long section in Competitive examinations so you have to prepare very smartly and to the point. Static gk for UPSC covers Prelims Preparation and mains exam questions.
Static GK Quiz For Exams
Prepare Static gk quiz for ssc, UPSC, Banking and Railway Exams. Static gk history quiz polity quiz and other Including general science quiz. We have provided short based quiz in parts to prepare static gk topicwise. These static gk quiz for ssc helps you to prepare each and every section of the general awareness.
Download all Exams PDFs
Download all the Exams Current Affairs pdf, SSC UPSC Banking and Railway Examination PDFs , previous year question paper PDFs, Static GK questions PDFs, Daily Exam updates, Notification PDFs exam dates , eligibility and current affairs PDF.
All Govt Exams Syllabus
Study Provides you all the Exams latest syllabus of 2021 Including ssc exam syllabus, upsc exam syllabus, bank exam syllabus, rrb ntpc syllabus, SSC CHSL exam syllabus, Exam syllabus for Neet exam , exam syllabus for SBI clerk exam ,exam pattern for all Examinations for better understanding.